Paras Loomba, Founder of Global Himalayan Expeditions (GHE), has over the last eights years led several leadership expeditions to Ladakh to provide Clean Energy and Digital Education access to remote off-grid communities without access to basic electricity. GHE has been instrumental in electrifying 101 remote off-grid Himalayan villages and impacting over 40,000 lives. In the process, GHE has setup more than 55 women-run homestays in these solar electrified villages, under the Mountain Homestays initiative, to promote community tourism experiences.
An engineer by profession, Paras merges technology and passion with an approach to entrepreneurial models in these high-altitude areas advocating use of sustainable tourism solutions that would eventually provide stimulus to local economy, reducing local emigration and preserving age old cultural Himalayan heritage. Edited excerpts from an interview:
Q. What made you start a Responsible Tourism venture?
Paras: I founded GHE in 2013 with the intent to promote tourism as a vehicle for sustainable development of rural communities. I was inspired by a leadership expedition to Antarctica with Sir Robert Swan that I undertook in 2012. I was working in a High-Tech Electronics company when I decided to pursue my childhood dream. On my return from Antarctica, I wanted to start a movement that leverages technology and tourism for the development of remote communities. As a son of an army officer, I have spent a lot of my childhood in mountainous regions of India and that was the key driver towards my mission to bring light and development for the remote indigenous communities of Himalayas. We started with organizing expeditions to these remote villages during which we would install solar micro-grids and electrify an entire village.
Soon this led to the launch of other initiatives. Like Mountain Homestays, a community empowerment initiative that focuses on promoting solar electrified villages as destinations for travellers by developing homestays in partnership with the locals. Mountain Homestays are managed and run by village women, thus helping them with doorstep income and making them more confident and independent. Linked to the homestays are our experiential tours, which are based on various themes like Adventure, Spiritual, Cultural and Heritage. Based on the theme, travellers get to explore unique places, stay in solar homestays, and participate in local activities. By creating new offbeat destinations, we are promoting local handicraft and centuries-old heritage sites in the villages.
The high altitude and dry climate of Ladakh results in wonderful night skies where one can identify numerous stellar objects. This makes the region perfect for astro-tourism. GHE has developed Astrostays in various villages of Ladakh by installing large telescopes. The local women running these homestays are trained in operating the telescopes and show-casing the night sky to the tourists. In just three months, the community near Pangong Lake in Ladakh was able to earn Rs 86,000 through the Astrostays.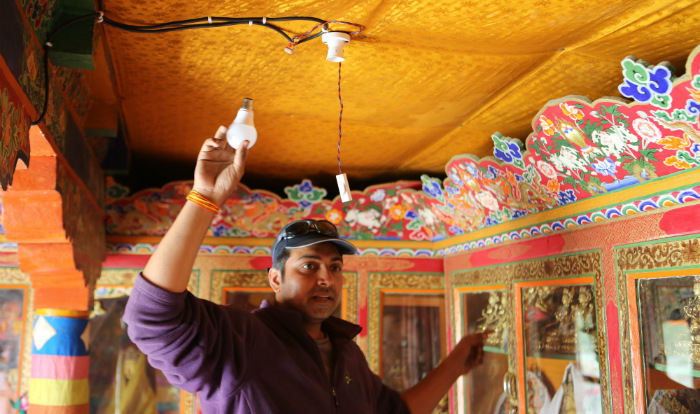 Q. What is a GHE expedition like?
Paras: Once a traveller signs up for a particular expedition, he or she is asked to fill a selection questionnaire where we got know them better and in detail. We then conduct a small telephonic conversation with our team leader of the expedition and ensure they are medically fit before the final selection. The team chosen is carefully selected people with a similar thought process who are interested in both adventure and social impact. Once the group is chosen, everyone is briefed on the itinerary and the village to be electrified through an online webinar. We expect everyone to reach Leh on a given date and post that GHE takes care of all the logistics. The journey involves visiting unexplored areas of Ladakh and of course finally trekking to the remote village for electrification.
Q. What are the challenges RT as an industry faces?
Paras: My view is based on my observation of Ladakh in the last seven to eight years. In Pangong Lake area, for example, there are about 100 hotels and resorts. Almost everyone uses diesel generator. They can migrate to solar power but are not doing in. This is because there is no strict policy. A lot of people, especially the small operators, look at earning all the money they can in the six months of 'season'. Some of the large, established chains are investing in sustainability. But many of those starting out or the smaller operators think of the shorter term and are focusing on ensuring higher profitability. The choice, when there is no strict policy, will be for cheaper options and to increase margins. Only when the locals adopt sustainable alternatives will there be actual impact.
Also, for small operators solar energy investments are costly. There is no real government support in the form of subsidies or rebates. There used to be subsidy for solar energy water heaters and many installed them at that time. But now the subsidy has stopped and so people are not installing new solar water heaters. This is in case of other areas too like water recycling and waste.
Q. What is the impact of your organisation?
Paras: Over the last seven years, GHE has been conducting impact expeditions in Zanskar region of Ladakh to provide clean energy access to the remote communities living in the Himalayas. This project tackles the issue of lack of electricity access for the communities that are living in darkness and still use kerosene oil for their lighting and cooking needs, which in turn emits toxic gases.
This project aims to empower these remote Himalayan communities with basic infrastructure such as providing them with solar electricity by conducting traveller expeditions. This electrification is done by installing solar-based micro grids that are not only safe to install but also requires very little technical knowledge for a traveller.
More than 1,250 travelers from over 60 different countries have been part of the impact expeditions to bring light to these 101 villages in the remote regions of Ladakh, Kargil and Zanskar.
Once these villages have been electrified, GHE sets up homestays in these communities for future traveller accommodation. This brings in livelihood for the communities and helps them maintain grid Infrastructure. GHE has now setup 55 Homestays in these electrified villages and has been able to generate additional $35,000 in income generation for the local communities.
GHE has trained 65 women from the communities in hospitality and financial literacy. GHE has also trained few women as solar engineers and these are the first women engineers from the Ladakh region who have electrified 27 villages with GHE.
GHE has setup a total solar capacity of 114kW in the Himalayas. This has mitigated 1263 Tons of CO2 emissions annually and also displaced 325 Tons of kerosene oil that is mostly used in the winter months.
In addition to electrification of villages, in the last two years, GHE has installed solar powered digital education centres at remote schools to enable more than 1,500 students with access to digital education. Students are engaging in experiential learning and the school grade averages as well as attendance have improved by 70%.
Q. What drives you?
Paras: We want to get back to the age of exploration—going to remote areas not for instagramming but to do good. Sometimes we discuss why is our aim to stop people migration, when we as humans are always migrating. In this case a lot of pople want to stay in the community and are migrating only because there are no opportunitues in their own community. Creating these livelihood opportunities in the remote communities creates a lot of impact. For me the drive is still about exploring new areas, doing tech intervention to improve lives and taking people to places they have not been to before to inspire them.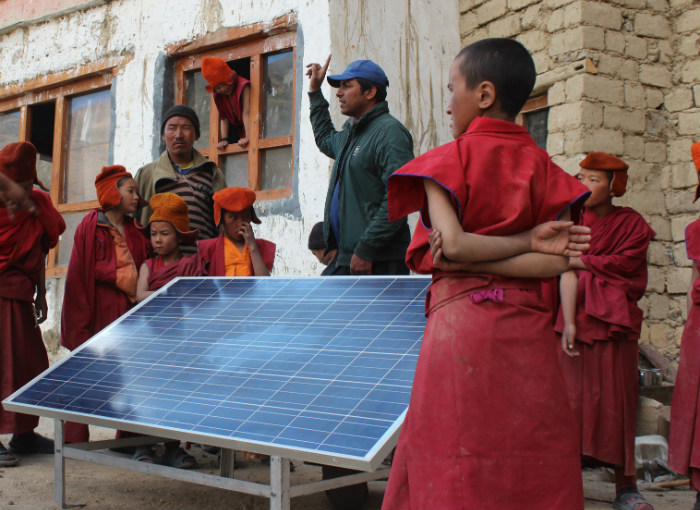 Q. What are your plans for your organisation in terms of expansion and new initiatives?
Paras: With more than 800 million people in the world without access to energy and more than a million just in Himalayas, our vision is to provide energy access to 1 million lives by 2025 and in the process create 1,000 local entrepreneurs that can take forward this legacy. While the use of Solar Energy is on the rise, and has been a success in providing energy access to the most isolated communities, the transformational impact of merging tourism with impact is something that is unprecedented for the tourism industry with the growth in experiential led travel for millennials.
With the increase in the visibility of our impact in the Himalayas, many other regions facing similar issues in energy access have contacted us to setup similar models of execution for their remote communities. In India we are launching in Northeastern states of Meghalaya, Nagaland and Arunachal Pradesh very soon.
Internationally, GHE has surveyed remote villages in Indonesia, Cameroon, Namibia and Nepal to expand its expedition model to bring technology innovation solutions for the communities. GHE plans to launch 6 impact expeditions to these new geographies in 2020. By setting up Homestays for these electrified villages, GHE now has a database of exclusive homestays, which has potential for backpackers and travellers looking for new destinations. Under the brand Mountain Homestays, GHE now plans to provide access to more than 200 homestays in next two years across these 5 countries (including India).
In Addition to providing solar-based energy for villages, many resorts and hotels in Ladakh have approached us to setup clean energy-based electricity system and replace their existing diesel based generators. The state tourism authorities of three states in India that are planning to create sustainable tourism policies have recently approached GHE to help in the development of homestay-based rural tourism for their states.