Anvesh Singh Thapa has been rafting and kayaking throughout the world for the past 20 years. Anvesh has led numerous expedition-style trips, including opening the first commercial river trips on the Brahmaputra (post-2001 flood), Lohit, Kameng, and Saryu. He has also led expeditions internationally. After spending many years as Operations Manager at one of the top adventure companies in India, Anvesh decided in 2008 to venture out on his own and commit to something different: small-scale, low-impact river adventures that are personal and hands on. Thus was born Expeditions India. In 2012, when Anvesh met Ing-Marie Putka in 2012, they immediately recognised their shared interests. With a Master's degree in International Environmental Studies, Ing-Marie has worked toward personal and planetary sustainability since she moved to India in 2005. This husband-wife duo run Expeditions India. Edited excerpts from an interview:
Q. What made you launch a Responsible Tourism venture?
Anvesh: For 11 years, I worked to help grow what is now one of the biggest rafting companies in India. What started as a small, hands-on operation turned into a big volume business where success was measured in how much money we made. The company would brag about how many people would come on a single expedition. For instance, we once took 50 people (clients and crew) on the Brahmaputra.
After a while, the work wasn't meaningful anymore. We were running the same river trips again and again, as the cash flowed in. Clients seemed to be come rafting just to check it off their bucket list. I started to witness the negative environmental impacts of running the same rivers repeatedly.
I left that company with a vision to start something more true to myself and more connected to the rivers. Expeditions India gives our clients the experience of the river via rafting and kayaking multi-day expeditions on rivers in India. From the beginning, I've wanted the company to remain small and hands on. We focus on helping people travel through and explore river corridors rather than emphasising day trips. We specialise in working with student groups on the river, since both my wife and I are outdoor and experiential educators.
I also wanted us to explore what other companies weren't exploring, and we are doing just that. Especially in the early years, we opened up trips not done by others, such as the Saryu, Kameng, RamGanga East, and more.
Ing-Marie: Although my degree is in International Environmental Stuides, my previous work tended toward education and NGOs. I never thought I'd get into the tourism sector. But I guess I married in! Fortunately, my husband Anvesh and I share the same values when it comes to the outdoors and tourism, so it was a good fit.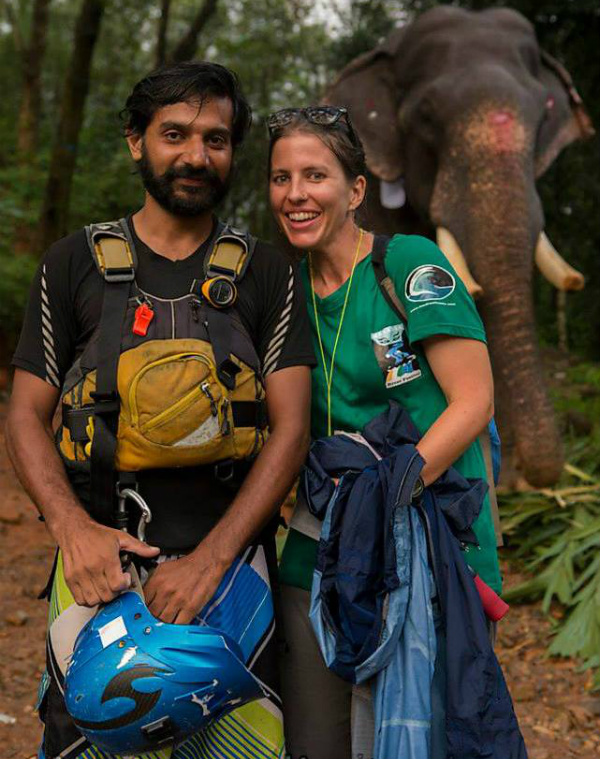 Q. What can travellers expect when they are on an Expeditions India trip?
Anvesh: On the expedition itself, we aim to take our clients on journeys through river corridors to understand the multiple meanings of the river (ecological, political, historical, cultural, etc). We want people to experience the wilderness as much as they can.
Our team of well-trained river guides takes care of all of the details, from safely navigating us down rapids to cooking up scrumptious meals, so that our clients can relax and experience all the river has to offer.
Ing-Marie: Some of the perks (of travelling with Expeditions India) include amazing stories around the campfire – Anvesh is a phenomenal storyteller and he has lots of years' worth of river stories. And let's not forget really, really good food.
Q. What are the challenges of running an RT venture?
Anvesh: Government bueraucracy can be frustrating. Sometimes it feels like the government is pretty clueless about our sector. There are redundant or obscure policies or people who are regulating the industry but don't have any idea of what's going on. The work ethics of guides can be a challenge. Mass tourism results in guides getting a lot of freelance work, but I've observed that it also erodes the sense of pride and professionalism guides take in their work. It just becomes all about the money. The rafting industry doesn't have a vision beyond mass tourism and making big money. The common pattern seems to be to open a rafting operation, make enough money to open a resort, shut down the rafting operation, and retire. Again it feels like money is dominant and not many people care about the river. Finally, the health of our rivers is deteriorating, and this impacts our work directly. There are fewer beaches due to sand mining and dams, so sometimes we don't have a place to camp. There is no information sharing on dam release timings, so the flow is not predictable, which impacts our rafting days.
In all of these challenges, we just try to keep doing what we are doing, which is working with integrity in tune with our values. Sometimes it does feel like swimming upstream though.
Q. What is the impact of your organisation, what sets you apart?
Anvesh: We shut shop during the highest point of the season on the Ganga (May-June), so our impact is actually not having an impact. We don't want to participate in the heavy ecological and social footprint of mass tourism. It's not good for the river and it's certainly not a good experience for clients.
We encourage a high level of professionalism of our guides. We encourage them to get trained from the best, always at an international level. We also offer guides options for future career pathways, such as NOLS or working abroad. One of our previous guides is an Instructor in Training with NOLS and will be travelling to the USA. We're proud of him.
Some trips are particularly geared for learning, such as our trips with school groups. But sometimes we are surprised by how much passion for rivers our team conveys, even without trying. For instance, we recently had a group of professionals from Bangalore. When we got off the river on our last day, they asked what they can do to keep India's rivers free flowing and healthy. They were inspired by our team's love for rivers, and we were overjoyed.
Ing-Marie: I also like to think of our impact in terms of how we might have made someone's honeymoon a special one, or how we taught someone about the dangers of sand mining, or how we might have changed a detrimental behavior such as open defecation or littering.
Q. Please share your proven best practices that other RT practitioners could implement.
Anvesh: 1) Leave No Trace Principles: just do it.
2) Buy local produce and support communities within the river corridor you're traveling through. Don't just pass them by.
3) Consider how to reduce your impact during high tourism season. Maybe it's not as extreme as shutting shop, but maybe there are other ways to reduce your impact, such as limiting your number of clients.
4) Teach your clients something about the river – even if just one thing – so they return home caring about it.
Q. What are your immediate plans for your organisation?
Anvesh: We're not looking to expand by making more money. We're looking to explore new river corridors, such as in the Northeast. We're looking at introducing new river crafts, such as SUPs. We want to stay small but fine-tune our operation so that when you come with us, you leave touched by the river experience and inspired to conserve it.