05 May 2020 Digital documentation and Augmented Reality bring continuity of culture and tourism in the time of social distancing.
The increasing demographical spread of the CoVID-19 pandemic has resulted in unprecedented disruption on a global scale. This disruption apart from being of health, wellbeing and economy, is also creating a serious disconnect on the cultural front. As per a recent global survey by UNESCO, by late-April, 89% of the world heritage sites are completely or partially closed. Cultural performances and festivals have also been cancelled, hitting artists very hard. It has caused immense economical setback to the tourism industry too, which will take a while before it can be back to normal. While governments across the world are rightly announcing financial packages to support the sectors and people affected, including artists and cultural institutions, many including India's Ministry of Culture, are also focusing on digital media platforms and other digital means to allow a certain level of continuity for the culture sector. Various libraries are putting up their digital content for free access to public. These efforts go in sync with other plans of central government like Digital India and efficiently uses the existing infrastructure. And several public bodies and civic societies are also brainstorming on how to build resilience in the cultural and tourism industries via digital means.
New Reality
Large parts of the economy, funding and support for cultural industries come from tourism and the advent of technological innovations in cultural heritage tourism promises to offer multifold benefits across stakeholder segments. The adoption of Augmented/Virtual Reality technology has facilitated necessary detailed documentation and recording of cultural traditions and the associated heritage. This process has a huge benefit because it facilitates 'Digital Archiving and Recording' of the rich myriad traditions and cultures across the globe. The digital repositories could help minimise dilution, deterioration, or loss of our tangible and intangible heritage, which is specifically under threat in the current volatile global climate resulting from natural, economic and political unrest. This crucial task can help us preserve our diverse Culture, Traditions and Heritage for our future generations.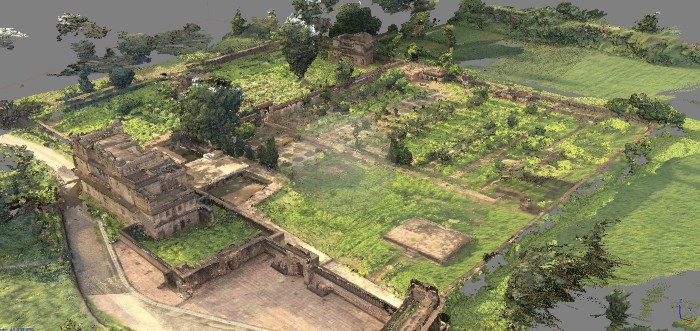 Rai Praveen Bagh in Orchha (above) created by using aerial photogrammetry. © DHARATAL & INTACH Belgium.
The way these digital repositories and data have changed the accessibility to cultural heritage is a global change phenomenon in itself. Now the digital archives are preferred input to curating interactive interpretations of built heritage and museums for travellers visiting a region, even remotely. From being a "Black Mirror" episode, visiting a heritage site, or a museum on a different continent, or exploring a new culture sitting at your home has evolved as a 'New Reality'. And this reality is already being practiced by institutions like The Egyptian Ministry of Tourism and Antiquities where they are providing virtual tours to people every day during these times of lockdown and social distancing.
A few use cases to refer to in this context include Google Arts and Culture, Real Cast, Jinsha Site Museum experience, Expeditions, Apple Maps – Flyover mode, HoloMaps, and The Smithsonian National Museum of Natural History. These platforms offer some very relevant and engaging interpretations for all audience segments, including travellers with special needs.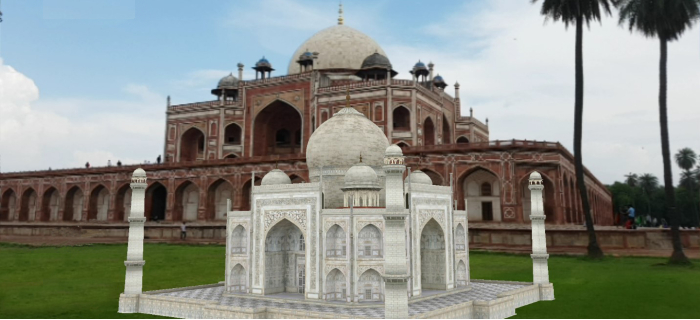 Augmented reality Model of the Taj at Humayun's tomb complex Delhi. Highlighting the design influences of the tomb on the Taj Mahal. © AUGTRAVELER.
Varied applications
Further, mobile-enabled AR applications are an ideal technology to highlight authentic cultural experiences. The travellers can now opt to go for curated self-guided heritage and cultural trails using their mobile devices at their own convenience. AR along with geo location and tagging can help connect host communities directly to travellers, thereby building on their travel experience by focusing on authentic cultural environments, local arts, crafts, and culinary delights. This engagement can help travellers buy local authentic products and services directly from the host communities, thereby facilitating evolution of a micro-level socio-economic ecosystem, which promotes a 'sustainable livelihood' model.
On a global scale such digital information can be used for education and also sustainable development making international networking programmes like UNESCO Creative Cities Network, even more pivotal in conserving the local cultural and creative industries, in alignment with UN SDG 2030 goals. Although one can't deny that the accessibility to digital world still remains a challenge in many parts of the world, especially developing nations and we need to work towards providing easy access to network to all, to make these programmes successful. An interesting concluding point to ponder in the post COVID era could be how all stakeholders in the culture and tourism fraternity could work together and adopt technology that can help in building more sustainable and resilient models for cultural heritage conservation and the related tourism.
About the authors:

Nishant Upadhyay is a conservation architect and founder of community-oriented design atelier, Dharatal. He is also an international heritage expert for UNESCO Dhaka office and has been involved in LIDAR documentation projects for state governments of India and INTACH Belgium chapter.

Pankaj Manchanda is the founder of Augtraveler, a new age technology startup that focuses on preservation and promotion of World Heritage and Culture in alignment of UN SDGs 11, 8 and 4 while making 'Culture and Heritage Accessible to All'.