09 July 2020 The Covid-19 pandemic and its domino effect of closed borders, cancelled flights, shuttered hotels and restaurants, and the complete stop of travel and tourism has severely impacted everyone dependent on this industry, one of the top job creators and income generators. In many parts of our country, individuals engaged in agriculture and in the arts and crafts sector, and many micro-entrepreneurs have bolstered their income by catering to travellers. Fishermen in Goa take tourists out to see dolphins, farmers in Himachal Pradesh have turned part of their homes into homestays, and artisans in Rajasthan conduct textile and crafts workshops. None of this is happening now. How has this complete stop in travel affected these individuals?
To find out, we bring to you RT Local - a series of conversations with those who work at the grassroots of travel and showcase their region and culture to travellers. Hear from them how they have been affected and what they think travel will look like post-Covid.
Mountainous Uttarakhand is a land of extreme beauty. But there are regions here that are even more stunning than the rest. Kumaon is one such region and the Saryu Valley in the upper reaches of Kumaon is even more special.The valley gets its name from the Saryu River. With subtropical forests of chestnut and alders, the region around the River is dotted with pretty villages, with mellifluous names like Supi and Jhuni, whose villagers have lived in relative harmony with nature for generations. Above these villages are dense rhododendron and oak forests, which give way to a green carpet of meadows on the narrow watershed ridge between the Saryu and Pindar valleys.
This region was mostly untouched by tourism and, like in the rest of Uttarakhand, people from the villages here used to migrate to Indian cities in search of jobs. Village Ways, a community-based tourism social enterprise, started tourism operations in this region. It has guesthouses in the Saryu villages of Supi, Khal Jhuni, Jhuni and Karmi—all owned and managed by the local community members. It offers interesting walking tours and other experiences woven around these pretty villages. This has ensured additional source of income for the villagers, who otherwise depend on the fickle income provided by agriculture and related activities.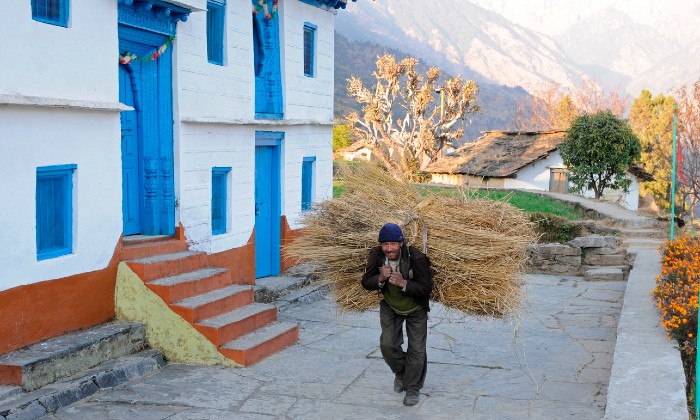 The picturesque villages and the opportunity to live amongst villagers has attracted travellers to this remote region in recent years.The forests surrounding the villages and fields are filled with sacred waterfalls and pools and are great for trekking, hiking and birding.
All this has come to a complete halt thanks to the Covid-19 pandemic and the stop in tourism. The lockdown and the resultant impact on economic activity in the Indian cities and industrial centres has also resulted in migrants making their way back home to Uttarakhand, penniless in many cases. While this is likely to add further stress to the fragile rural economy, could there be an opportunity here? Only time will tell.
In this video, Tara Singh, the Village ways Coordinator at Supi village, shares his thoughts and concerns: