Maria Victor, the Founder of Make It Happen, is a Management Accountant by profession but a traveller by passion. She realised that Goa's rich cultural histories and colourful local communities were forgotten in a rush to capitilise on the 'sun, sand, beer, casino' narrative. She realised that if this narrative were to change, travellers needed to learn about local culture from the locals themselves. Leaving behind the protected pattern of a salaried job she dived right into the heart of the storm. She formed a team of young travel enthusiasts and launched Make It Happen in 2014 as an experiential travel company that specialises in curating heritage trails and cultural experiences conducted by local presenters. Edited excerpts from an interview.
Q. What led you to Responsible Tourism? Tell us more about Make it Happen.
Maria: There comes a time in everyone's life, when circumstances force us to pause and re-prioritise everything we know about our lives and ourselves. For me that moment came in Germany, while attending a trade fair. Almost everyone there acknowledged the vibrant, colourful era of the early 60s and 70s that was associated the popular Hippie culture.
No one, however, spoke of the Goa I grew up in or even seemed to know about it. In that moment I realised I wouldn't wait for anyone else to take this initiative and showcase the real true essence of Goa; I realised that the responsibility lay with me and in that instant I knew what needed to be done. How I was going to achieve this goal was a whole another story!
I started "Make It Happen" with the intention of changing the stereotypical image of Goa being a fun and party hub. Yes, it is all these things but there's a rich cultural heritage embedded in tiny corners and memories securely kept in the treasure troves of our streets. Ironically, a new narrative was needed to showcase history, heritage and art and culture of Goa. I wanted to be the voice and mind behind this new narrative, showcasing the true ethos of Goa, presented by Goans.
Q. What can travellers expect when they sign up for a tour?
Maria: When travellers sign up with us they are in for an experience of a lifetime. We are not the usual tour guides giving brief history of a monument or the story of its existence. We are helping create an acquaintance with people, place and surroundings. A familiarity that will stay with them long after they have gone back home, a story where they will feel transported to an era that they only read about.
Our carefully curated experiences keep into mind individual desires, thus, offering a plethora of alternatives to choose from. Patrons who enjoy the human experience of life and living can indulge in community walks that include a detailed peek into our community. For our "we live to eat, and eat to live" patrons we offer special culinary tours in Chorao, Divar island and Mapusa, where the grand finale is a traditional home cooked meal with locals welcoming our guests int their homes like their own.
Mr Chico, a renowned musician and an expert of the Fado music, provides a sneak peek into fine china that graces his vintage home on the street of Fontainhas. As we walk into Chico's home there's an air of elegance that overcomes us and lifts our spirits with the soulful tunes of Fado music coupled with Chico's magical voice.
Experiences like these only exist in either words in a textbook or as part of a Make it Happen tour.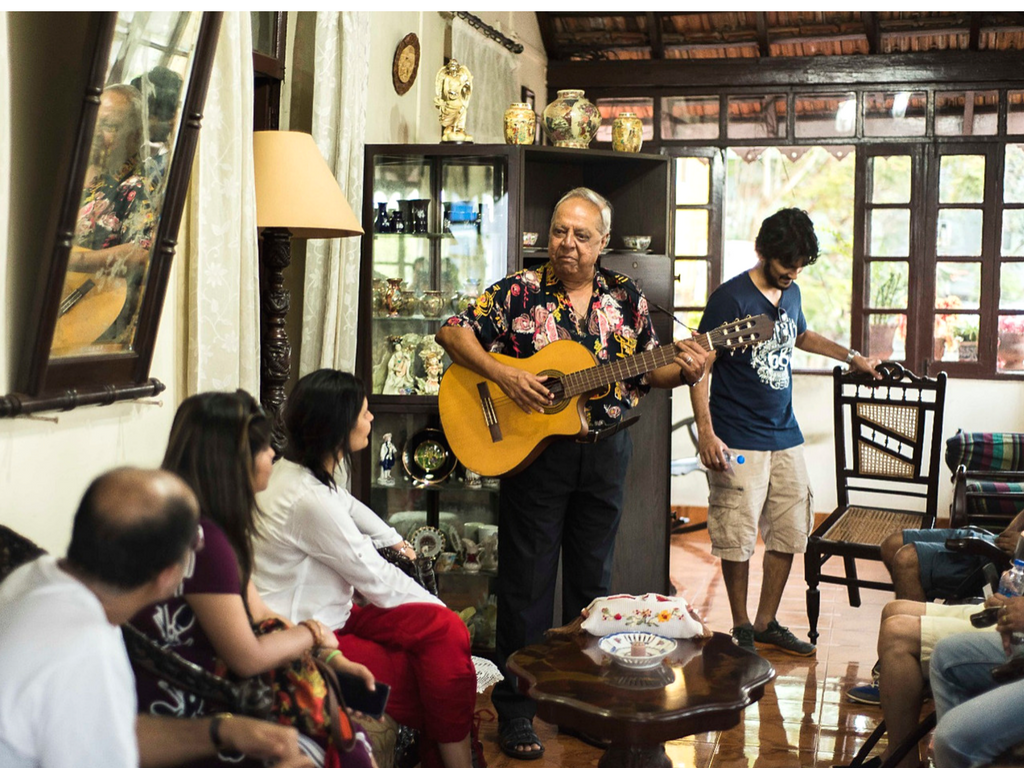 Q. What are some of the challenges you have faced?
Maria: To be honest I am not much of a glass empty kind of person. From, the start my attitude has been of troubleshooting rather than trouble-brooding when a problem crops up. I have always felt it takes more energy out of us when we focus on the problem rather than on on the solution.
However, like all startups we do face issues from time to time. Few of these are explaining 'Local Experiences' to travellers who are completely new to this concept. A funny incident comes to mind where a prospective guest was quite alarmed that we charge for organising a heritage walk. She, in fact, expected to be paid since she was going to walk herself! We feel finding humour in such conversations is more encouraging rather than focusing on the negative.
The more realistic problem, however, is maintaining steady bookings to keep our work sustainable and keep the community engaged in our personalised tours. So, we work on two angles simultaneously, one is from the consumer end and the other is from the experiential end.
Q. What has been the impact of your organisation?
Maria: The impact of our organisation is that we manage to showcase the grassroot beauty and culture of our country. Our guests meet artists, renowned brass and acoustic musicians, see beautiful family homes, learn culinary art from home chefs and local bakeries, experience traditional occupations like toddy tapping, fishing, weaving, clay art and organic farming, plus enjoying traditional games.
We have expanded our horizons beyond Goa to reach across India in our quest to encourage cross cultural sharing. In Bylakuppe and Mundgod we closely work with the Buddhist communities and monks who kindly share Buddhist philosophies, Nalanda teachings, traditions, art and culture with us. We work with historians in Ladakh who give orientation to Drukpa sect of Buddhism. In the Nilgiris we take our guests to meet and interact with members of most prominent tribal communities, the Todas and Kurumbas. They teach about the art of traditional embroidery, painting with natural paints and science of medicine making from forest gatherings. Fontainhas walk ends with a rhythmic bang from Chico Fonesca, a renowned Goan musician, while chronicles and echoes of Divar showcases an experience of the quaint village life with fish being caught in the traditional methods and bread being baked in the traditional wood fired oven.
The reason of listing all this is to show that we stand different from stereotypical tour guides; ours is an inclusive, personalised initiative. The stories from these experiences can't be manufactured, these are relished with an impact that lasts a lifetime.
Q. What are your plans for your organisation in terms of expansion or new initiatives?
Maria: We are consistently trying to identify communities across the country, organising training to upskill presenters with knowledge of uniqueness about a destination, its evolving culture, natural heritage, architecture, archaeology, along with presentation and storytelling skills, thereby increasing employment opportunities for locals and promoting sustainable tourism.
We are also venturing into Experiential Marketing where we help brands to create a closer bond between the consumer and the brand by immersing them in a fun and memorable experience. We are working with brands who want to build a community of like-minded individuals. By curating experiences for special interest groups – art, architecture, cuisine, organic lifestyle, we enable brands to engage and build relationship with their target audience.